The more mattresses there are the more differences they have. Any orthopedic mattress consists of numerous layers.
The main ones are the following: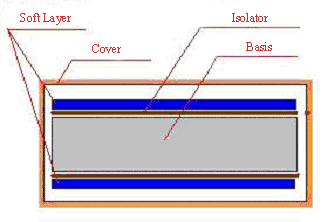 Layer 1: Basis
Layer 2: Isolator
Layer 3: Soft Layer
Layer 4: Cover

All these layers contribute significantly to orthopedic properties of a mattress and influence upon its price.
According to the basis all orthopedic mattresses are divided into the following groups:
Orthopedic mattresses on the basis of a dependent spring block (Bonnel):
A dependent spring block (150 springs on a square meter) is generally used in mattresses of low price level. An acceptable price is probably the only advantage of such mattresses. Their significant disadvantage is rigid attachment of big diameter springs and reduction of orthopedic properties of the mattress.
Orthopedic mattresses on the basis of TFK spring block:
TFK system means an independent spring block (280 springs on a square meter) in which each spring is stitched into a separate cover. Such a construction increases significantly orthopedic properties of the mattress. It prevents undesirable fluctuations of the construction and allocates the load evenly. It can relieve your neck, back, joint and muscle pain leaving you feeling refreshed and restored in the morning. Your backbone rests without any tension. Such mattresses have much more advantages and properties comparing with the previous ones, and the price doesn't differ significantly.
Orthopedic mattresses on the basis of multipocket spring block:
Multipocket (750 springs on a square meter) is the last development in the area of orthopedic mattresses. This model of mattresses is considered the best one due to its numerous orthopedic properties. Thousands springs can ideally reflect contours of your body, allocate the load with precious accuracy and provide your back with comfortable and reasonable rest. Unfortunately this technology is too expensive, so it's not acceptable for each customer. But people who can get such mattresses are lucky indeed as the multipocket system is the only capable of creating the highest possible anatomic effect.
Non-spring orthopedic mattresses:
Nowadays non-spring orthopedic mattresses are popular all over the world as an alternative to the spring ones. They are usually produced on the basis of coconut fibers and natural latex. While sleeping on such a mattress you get completely new feelings, as the surface is very smooth and hard. It is the best choice for people who need a hard orthopedic mattress or a hard orthopedic mattress with much softer upper layer.
Soft layers are divided into natural and artificial.
The artificial layers are subdivided into the following ones:
Foamed Polyurethane is resistant foam-rubber with antidecubital additives. Special equipment and technologies are necessary to produce this material. It has been used for years in orthopedic mattresses.
Artificial Substitute of Wool with vertically oriented fibers has been created specially for mattress production. Its price is similar to the previous one but the lifetime and elasticity is much higher.
The natural layers contain:
Coconut Fibers are steamed coconut fibers sodden with natural latex and moulded into regularly shaped mats. This material belongs to resilient hard stuff and is used in hard orthopedic mattresses. It is much more useful than artificial stuff and has longer lifetime. It is capable of resisting putrefaction, decomposition and warping. The coconut fiber is treated with special ecological solutions to prevent appearance of any insects inside the mattress.
Latex is usually derived from seringa latex through vulcanization. Within the process of its production a porous structure appears. It has micro cells looking like bee ones. Due to this structure the material has a rather long lifetime (over 10 years). Latex belongs to simple elastic materials. It can be properly used in non-spring orthopedic mattresses and independent spring orthopedic mattresses.
Flax and jute felt is used in an orthopedic mattress as an isolator between a soft layer and a spring block. In general it has two main functions: it protects the soft layer thus preventing it from wear and acts as a constructional material for the whole mattress extending elasticity and durability of orthopedic mattresses.
Cotton linen is pressed natural cotton. It is generally used for upper layer in expensive orthopedic mattresses. Its functions contain water and air regulation, creation of optimal microclimate and isolation of the cover from roughness of other layers of the orthopedic mattress.
Natural sheep wool is a material widely used in "winter and summer" mattresses. It creates microclimate and keeps heat. It should be very carefully spread in order to prevent migration.
In general, a mattress cover is made from standard quilted jacquard but there are some other variants:
Cotton jacquard 100 is jacquard with high content of cotton (70% cotton) on the double stitch.
Cotton jacquard 200 is cotton-bleached jacquard (70% cotton).
Turkish ratine is a material containing 100% cotton.
Merino is 100% merino wool.
Do you know that there are orthopedic beds for dogs on the market today ? :)
~ Richard, MattressInside.com project.
Comments:

Similar pages:

whats an orthopedic mattress

orthopedic air mattress

what's orthopedic mattress

orthopedic mattress layers

ortho mattreses