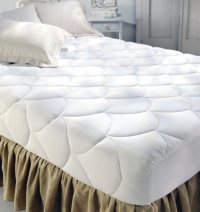 Plush is mainly used for mattress upholstery and top surface padding.
Quality of plush varies and depends on type of matrial used in production.
Modern plush is mostly made from synthetic fibres.

Pros of plush mattress:
thick surface with excellent comfort
cradling effect
while providing comfort, plush not sacrifices level of coil support in coil mattresses
Cons:
Synthetic plush has downsides like any other synthetical material.
How to buy good plush mattress:
Search for one with natural plush made from silk / cotton / velvet.
Conclusion:
Plush is excellent material for bed padding, with no distinctive downsides.
Comments:
gvbcb, 11/07:
xbx er sdf dd dsf sfg sfg dsf dfg dfdfgdfdvcnu yuyuk


Similar pages:

plush surface

plush mattress downside

mattresses matrial

inside box mattress

what does plush mean when buying a mattress